The "father" of the Green Revolution is considered to be Norman Borlaug, an American agricultural scientist who in 1970 was awarded the Nobel Peace Prize for breeding higher-yielding varieties of wheat at the International Maize and Wheat Improvement Center in Mexico. Borlaug's wheat, a hybrid, or offspring, of wheat varieties from the U.S., the Russian Federation, Japan, and Mexico, has numerous favorable traits, such as short stature of the wheat stalk, which prevents the wheat from growing too tall and falling or breaking; an increased number of grains per plant; strong resistance to disease; and improved tolerance to the environment. These same sorts of improvements have been made in rice, most notably at the International Rice Research Institute (IRRI) in the Philippines, which released the IR-8 rice strain in 1968. This "miracle" rice is a cross between a Chinese semi-dwarf strain and a tall Indonesian strain that yields three times the amount of grain as the older types. Originally, the IR-8 strain was a bit chalky, with a strange taste; however, these defects have been overcome and other improvements made by further breeding.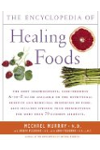 More About this Book
Encyclopedia of Healing Foods
From the bestselling authors of The Encyclopedia of Natural Medicine, the most comprehensive and practical guide available to the nutritional benefits and medicinal properties of virtually everything...
Continue Learning about Green Health