Though heating home with a wood fire seems more romantic than a Shakespearean poet, wood smoke is much more carcinogenic than cigarette smoke and a contributor to particle pollution in neighborhoods.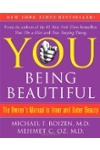 Continue Learning about Green Health

You can take of yourself AND the environment simply by practicing green health. Small changes like ditching the bottled water and opting for a reusable BPA-free one or cutting down on energy use by skipping the treadmill and headi...
ng outside for a hike can make a big different for the environment. Even the cleaning products you use can be a little greener by purchasing only those with natural ingredients. Turns out, it is easy being green.
More