While you're showing your respect for your family, friends, and colleagues, there's no greater gift than helping save the planet and showing respect for all future generations. After all, how can you feel good if your surroundings are trashed? You want to create your own personal sanctuaries around you - and that should be incentive to live as green as you can. Here are some easy ways you can avoid harming and help restore the environment:
- Stop buying plastic water bottles; use reusable glass thermoses instead. Or drink real tap water.
- Stop using plastic bags. Use reusable cloth bags or paper bags instead.- Buy compact fluorescents light bulbs.- Don't leave water running in the shower or sink, and install low-flow faucets.
-Turn down the heat at night and when you're out during the day.
- Reduce heat loss in your walls and attic by insulating.
- Return your hangers to the dry cleaner.
- Recycle. Not just glass, paper, and plastic, but batteries, florescent light bulbs and electronic devices.
- Save energy by sweeping instead of vacuuming.
- Don't burn wood fires.
- Set your water temperature at 120 degrees.- Wash your clothes in cold water to help save on electricity.
- Plant a tree.- Compost.
- Use rechargeable batteries.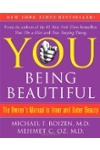 Continue Learning about Green Health