If left untreated, Graves disease can lead to heart problems and problems in pregnancy, and an increased risk of a miscarriage. Severe, untreated Graves' disease can be fatal. Thyrotoxic storm is a rare life-threatening condition that develops in cases of untreated hyperthyroidism. It is usually brought on by an acute stress, such as trauma surgery or infection. Symptoms are severe, with a pounding heart, sweating, restlessness, shaking, diarrhea, change in consciousness, agitation and confusion. Congestive heart failure can develop rapidly and lead to death.
This information is based on source information from the National Women's Health Information Center.
Continue Learning about Graves' Disease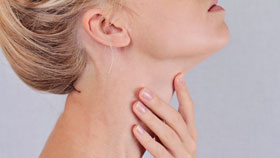 Graves' disease is an autoimmune condition that makes the thyroid to overproduce thyroid hormone (hyperthyroidism). Symptoms include irregular heartbeat, nervousness, mood changes, fatigue, and the appearance of bulging eyes. Trea...
tments include antithyroid medication, radioactive iodine and surgery.
More