Among all other treatments, radioiodine therapy is the most commonly used treatment for Graves' disease in the United States.
In radioiodine therapy, the patient takes radioactive iodine-131 by mouth. As the thyroid gland collects iodine to make thyroid hormone, it will collect the radioactive iodine from the bloodstream. Iodine-131 will gradually destroy cells that make up the thyroid gland without affecting other tissues in the body.
More than one round of radioiodine therapy may be needed. Results take time, and a person undergoing this treatment may not notice improvement in symptoms for several weeks or months.
People with Graves' ophthalmopathy (GO) should talk with their doctor about any risks associated with radioactive iodine treatments.
Although iodine-131 is not known to cause birth defects or infertility, radioiodine therapy is not used to treat pregnant women or women who are breast-feeding.
Almost everyone who receives radioactive iodine treatment eventually develops hypothyroidism, which occurs when the thyroid does not make enough thyroid hormone.
This answer is based upon information from the National Institute of Diabetes and Digestive and Kidney Diseases.
Continue Learning about Graves' Disease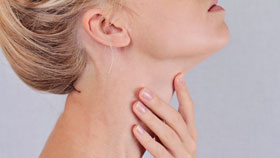 Graves' disease is an autoimmune condition that makes the thyroid to overproduce thyroid hormone (hyperthyroidism). Symptoms include irregular heartbeat, nervousness, mood changes, fatigue, and the appearance of bulging eyes. Trea...
tments include antithyroid medication, radioactive iodine and surgery.
More