Graves' disease, the leading cause of hyperthyroidism, causes the skin to thicken and harden. The skin, particularly over the shins, may become red, inflamed, thick, and take on the texture of an orange peel. It may also become itchy.
Continue Learning about Graves' Disease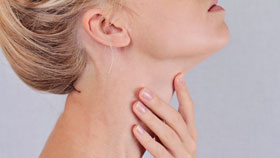 Graves' disease is an autoimmune condition that makes the thyroid to overproduce thyroid hormone (hyperthyroidism). Symptoms include irregular heartbeat, nervousness, mood changes, fatigue, and the appearance of bulging eyes. Trea...
tments include antithyroid medication, radioactive iodine and surgery.
More