Before 2009, there had not been a new treatment for gout in literally several decades, but the new uric acid lowering drug Febuxostat was introduced in early 2009. Additional medications for gout are currently being evaluated.
Continue Learning about Gout Treatment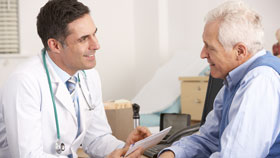 During gout attacks, treatment with nonsteroidal anti-inflammatory drugs (NSAIDs) such as ibuprofen (Advil or Motrin) and naproxen (Aleve) can help. Take steps to reduce uric acid by adjusting your diet, avoiding alcohol and drink...
ing plenty of fluids. Your doctor will devise a treatment plan to help you manage your symptoms and prevent flares.
More