Gout is caused by high levels of uric acid in the blood. The body naturally produces uric acid as it breaks down purines, a form of protein that is present in our cells and in some of the foods we eat. One function of the kidneys is to maintain healthy levels of uric acid. If the body produces too much uric acid, or too many purine-rich foods are eaten, or the kidneys fail to remove excess amounts, needle-like uric crystals begin to form. These crystals settle in the bone, fluid, and cartilage around one or more joints, usually in the feet.
Uric acid, which causes gout when it builds up in the blood, comes from the breakdown of purines, naturally-occurring chemicals that are found in both our diets and our bodies. Foods and drinks that contribute most to hyperuricemia (high levels of uric acid in the blood) and gout include: red meat, organ meat, seafood, beer, liquor and sugar-sweetened items, especially thoes with high-fructose corn syrup.

Health problems such as obesity, high blood pressure, high blood sugar and high cholesterol may also lead to increased uric acid and the development of gout. And because some medications may also increase risk, you should review all your medications and supplements with your doctor. Other causes of hyperuricemia and gout include kidney disease, exposure to lead, hypothyroidism, severe illness or stress and extreme physical exertion.

Some people with gout do not have high uric acid levels, so it is very important to maintain a healthy lifestyle no matter the level. Do not smoke, follow a well-balanced diet, maintain a healthy weight and exercise.
Gout is the result of increased synthesis of uric acid; reduced ability to excrete uric acid; or overproduction and underexcretion of uric acid. Several dietary factors are known to trigger gout, including consumption of alcohol, highpurine-content foods (such as organ meats, meat, yeast, and poultry), fats, refined carbohydrates, and excessive calories.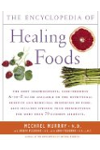 More About this Book
Encyclopedia of Healing Foods
From the bestselling authors of The Encyclopedia of Natural Medicine, the most comprehensive and practical guide available to the nutritional benefits and medicinal properties of virtually everything...
Gout comes on when your body either makes too much or excretes (in your urine) too little uric acid -- a byproduct of purine (a chemical that's in almost all human tissues and some foods). It's those uric acid molecules that cause trouble when they get together and form sharp, pointy crystals that lodge in joints and tissue.
Continue Learning about Gout Causes & Risks