Believe it or not, fat is essential for heart health, blood pressure regulation, hair and skin health, hormone production, and endurance exercise. Several key vitamins -- such as A, D, and E -- are fat soluble and are absorbed best when consumed with fat.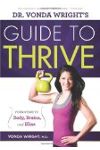 If you eat a little fat prior to eating carbohydrates, your stomach won't empty its contents into the intestine as quickly. This slowing of stomach emptying has four RealAge (physiologic age) age reduction effects. First, you feel full faster and stay full longer, so you eat less. Second, because sugars are largely absorbed in the intestine, the amount of sugar in the blood rises less rapidly and peaks at a lower level. Third, eating fat helps the absorption of fat-soluble nutrients. Finally, healthy fat has its own health-giving properties, it increases your healthy high-density lipoprotein (HDL) cholesterol and decreases inflammation in your arteries.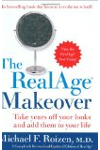 Healthy fats such as docosahexaenoic acid (DHA) are at an all-time low in people's diets, whereas unhealthy fats (e.g., saturated and trans, are at an all-time high). But it's healthy fats that help fat-soluble vitamins such as A, D, E, and K move around the body, create sex hormones, build cell membranes, lower low density lipoprotein (LDL) (bad) cholesterol while raising high density lipoprotein (HDL) (good) cholesterol, and contribute to the health of skin, eyes, nails, and hair.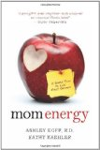 More About this Book
Mom Energy: A Simple Plan to Live Fully Charged
       From celebrated dietitian Ashley Koff and fitness trainer to the stars Kathy Kaehler comes Mom Energy, an exciting new way for moms to tap into their own natural and renewable sources of...
The name says it all: Fat makes you fat, right? Wrong! Eating a small amount of fat actually helps you feel fuller faster, as it triggers satiety (or fullness) signals, causing you to eat less overall. Not only that, eating the right fats aids in the absorption of healthy vitamins. Seek out the polyunsaturated fats you'll find in liquid oils, like canola and safflower oil. Unlike saturated fats, they won't raise bad blood cholesterol levels and may even reduce the risk of a heart attack. To get your healthy fat fix, also look for omega-3 oils from fish, krill, seafood, algae, flaxseeds, and walnuts, as well as olive oil, which is a source of both monounsaturated fats and omega-3s.
This content originally appeared on
doctoroz.com
When you add more healthy fats to your diet, you'll see your hunger cuts down, your brain wakes up and your metabolism kicks into gear. You have more energy and you feel better. In fact, I wrote most of my book eating tons of fat. Every morning, I'd wake up and have butter and MCT oil, which is a derivative of coconut oil, and a cup of coffee. That would be it all morning -- and I would just crank out my book. But by that I don't mean you're wired. You're not actually wired. You're clear. It's not anxious energy. It's calm, clear energy because you're brain actually runs better.
Continue Learning about Good Fats