Front Squat with Weighted Club or Bar
Stand with legs about shoulder-width apart and feet pointed straight ahead. Hold a club/bar across your chest with arms crossed to support the bar.
Pull in belly-button towards spine to activate core and concentrate flexing gluteals (buttocks)
Keep knees in line with toes before jumping and on landing.
Lower into squat position, chair height, maintaining proper alignment.
Jump up as high as possible while maintaining body control.
Land back SOFTLY in the starting squat position. As soon as you land SOFTLY, immediately repeat.
To help develop optimal stability, strength, and power in the lower body, golfers may benefit from plyometric exercises such as side-to-side hops, box jumps, power step-ups, jump with rotation, or bounding drills. All of these exercises can be done with both legs or single-leg. For more advanced athletes, box jump downs with countermovement squat jumps can help increase leg power.
Continue Learning about Golf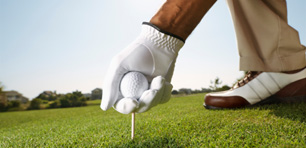 Golf is a popular individual sport for people of all ages. Although golf is regarded as a laid back sport with no contact, injuries commonly occur due to overuse. "Golfer's elbow" and injuries to shoulders are frequent in golf due ...
to the aggressive and repetitive nature of a golf swing. Correct posture and technique can help limit injuries on the golf course.
More