Matcha is a gorgeous green powder made from whole, ground green tea leaves. Because you are consuming the entire leaf, you get its health benefits. Green tea is loaded with several potent phytochemicals, but one in particular, EGCG, seems to be associated with a metabolic boost. The ginger adds a zingy taste and spicy heat, which some researchers claim may give you an additional small boost in your body's thermogenesis (the rate at which you burn calories).
Why iced? One study reported that when subjects were given an ice-cold glass of water, their metabolic rate rose after 10 minutes and stayed elevated for about a half hour (although at least one later study questioned this claim). Be aware that green tea is high in caffeine (although a good deal less than coffee), which may account for some of the energy-boosting claims connected to it.
This content originally appeared on
doctoroz.com
Continue Learning about Ginger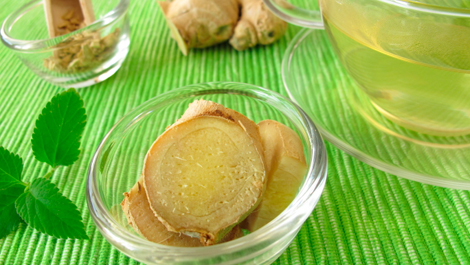 Ginger supplements are most commonly used to relieve nausea, motion sickness and vomiting. Ginger can be used orally, topically and intramuscularly for a variety of other conditions. Learn more about ginger from our experts.