Are you fighting extra weight? Instead of saying, "I want to drop 50 pounds," state your goal as "I will lose one pound this week." You'll probably be able to meet that goal successfully, and even repeat it the following week. Remember, recommended weight loss for most people is only about one pound per week.

Realistic goals might not seem exciting, but grander plans are often self-defeating. People get stumped when they have a huge goal, so they put it off. By achieving a smaller goal, you'll see what you've done, then you can tackle the next goal.

However, before deciding on your goal, keep a food or exercise diary for a week to get a clear view of your current lifestyle. Every day, write down what you eat and your physical activity.

Then use that snapshot of your life to choose an area to focus on. You may see that you're spending hours on the living room couch at night or having fast-food lunches most days of the week. By looking at what you're currently doing you can set a goal and know where you started.

Choose a precise, positive goal for a short period of time. Make it challenging enough to motivate you, without being beyond your capabilities.
By taking ACTION steps to replace unhealthy lifestyle patterns with new healthy ones. Replace negative thoughts with positive ones that allow you the freedom to know that you are capable of much more than you think. Replace high-calorie processed foods that lack nutritional benefits with wholesome nutrient-packed foods. Replace inactivity with activity! Take more walks, do more gardening, take kids or grandkids to the park, join a gym or take up a new sport. Be sure to write down your starting point and your goal. As you make these changes, you can compare the results and acknowledge the progress you are making towards your weightloss goals.

If you are overweight, shedding pounds can be one of the most beneficial things you can do for your health and your confidence. These steps will help you toward your goal. As always, it's a good idea to talk with your doctor and get a good assessment of where you are. This way, you have an idea of how much weight to lose. After that, a personal trainer can also help you get started.
Assess your health and weight.
Be clear about why you want to lose weight. Losing weight because you want to look sexy is fine. Just list as many heartfelt reasons as possible to fuel your weight loss journey.
Set a weight goal. To increase your chances of success, you weight loss goal should be specific, positive, challenging and realistic.
Keeping a diet log is one of the best ways to lose weight and keep it off. You can find great diet and activity logs on the Sharecare website!
It helps to tell people close to you about your plans to lose weight.
Visualize yourself at your goal weight. Mental preparation is very important.
Plan for slips. It is not very realistic to think anyone can reach a weight loss goal perfectly, avoiding temptation every day for life. Totally expect to reach your goal, but plan for those moments when you get off track. This will help you succeed and stay positive. Planning for off days is part of a complete plan for success.
Believe you can, because you can! Keep going!
It is essential that you develop a support team so that you don't feel like it's you against the world. Go home and start to clean out your fridge and cupboards and learn to read label. Remember the 5 felons. Make a meal plan and grocery list and take your handouts to help you when you go shopping. Consider journaling your food diary and remember to use your resources like www.sharecare.com. Start walking 10,000 steps a day and check in with your healthcare provider if you haven't already done so. Start to make small changes and remember Eat like a King at breakfast, a princess at lunch and a pauper at dinner. This program is about progress not perfection. Take the first steps on your wellness journey and together we will learn how to live our youngest lives possible.
It is nearly guaranteed that you will lose weight if you commit to writing down every bit of food that goes into your mouth. This will heighten your awareness of all of the mindless eating you are likely doing, and this awareness will lead you to naturally decrease the number of calories you are consuming. In research studies, when people are instructed to start keeping a food diary - but not to change anything about their eating - they almost ways lose weight.
For losing weight, the following are five simple steps that you should undertake gradually -- say, in thirty-day increments:
Step 1: Walk thirty minutes a day, no excuses. If it rains, walk inside a mall. Although you may drag your feet the first few times, chances are you'll come to love (and truly look forward to) your daily walk.
Step 2: Buy a new set of plates, ones you love, that are nine inches in diameter. Portion control is absolutely key to losing weight.
Step 3: Take up weight (resistance) exercise, ideally with a trainer.
Step 4: Gradually change your food choices to more fruits and vegetables. Avoid simple sugars. Eat colorful food and avoid white food.
Step 5: Begin to have a little healthy fat first at every meal.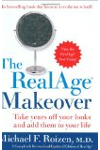 Continue Learning about Getting Started with Weight Loss