For losing weight, the following are five simple steps that you should undertake gradually -- say, in thirty-day increments:
Step 1: Walk thirty minutes a day, no excuses. If it rains, walk inside a mall. Although you may drag your feet the first few times, chances are you'll come to love (and truly look forward to) your daily walk.
Step 2: Buy a new set of plates, ones you love, that are nine inches in diameter. Portion control is absolutely key to losing weight.
Step 3: Take up weight (resistance) exercise, ideally with a trainer.
Step 4: Gradually change your food choices to more fruits and vegetables. Avoid simple sugars. Eat colorful food and avoid white food.
Step 5: Begin to have a little healthy fat first at every meal.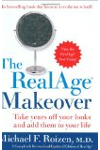 Are you fighting extra weight? Instead of saying, "I want to drop 50 pounds," state your goal as "I will lose one pound this week." You'll probably be able to meet that goal successfully, and even repeat it the following week. Remember, recommended weight loss for most people is only about one pound per week.

Realistic goals might not seem exciting, but grander plans are often self-defeating. People get stumped when they have a huge goal, so they put it off. By achieving a smaller goal, you'll see what you've done, then you can tackle the next goal.

However, before deciding on your goal, keep a food or exercise diary for a week to get a clear view of your current lifestyle. Every day, write down what you eat and your physical activity.

Then use that snapshot of your life to choose an area to focus on. You may see that you're spending hours on the living room couch at night or having fast-food lunches most days of the week. By looking at what you're currently doing you can set a goal and know where you started.

Choose a precise, positive goal for a short period of time. Make it challenging enough to motivate you, without being beyond your capabilities.
Continue Learning about Getting Started with Weight Loss