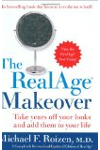 For losing weight, the following are five simple steps that you should undertake gradually -- say, in thirty-day increments:
Step 1: Walk thirty minutes a day, no excuses. If it rains, walk inside a mall. Although you may drag your feet the first few times, chances are you'll come to love (and truly look forward to) your daily walk.
Step 2: Buy a new set of plates, ones you love, that are nine inches in diameter. Portion control is absolutely key to losing weight.
Step 3: Take up weight (resistance) exercise, ideally with a trainer.
Step 4: Gradually change your food choices to more fruits and vegetables. Avoid simple sugars. Eat colorful food and avoid white food.
Step 5: Begin to have a little healthy fat first at every meal.