In order for an individual to lose weight, energy intake must be less than energy expenditure. This goal can be achieved by decreasing caloric intake (dieting) and/or by increasing the rate at which calories are burned (exercising). Of course, while reducing caloric intake, a person must follow the basic guidelines of constructing a health-promoting diet. Most individuals will begin to lose weight if they decrease their caloric intake below 1,500 calories per day and do aerobic exercise for fifteen to twenty minutes, three to four times per week. Starvation and crash diets usually result in rapid weight loss (largely muscle and water) but cause rebound weight gain.
The most successful approach to weight loss is gradual weight reduction (0.5 to 1 pound per week) through long-term dietary and lifestyle modifications. Fiber supplements can be quite helpful in helping people lose weight. Fiber supplementation has been shown to enhance blood sugar control, decrease insulin levels, and reduce the number of calories absorbed by the body. The best fiber sources for promoting weight loss are those that are rich in water-soluble fibers, such as glucomannan (from konjac root), psyllium, guar gum, defatted fenugreek seed powder or fiber, seaweed fibers (alginate and carrageenan), and pectin. When taken with water before meals, these fiber sources bind to the water in the stomach and small intestine to form a gelatinous, viscous mass that not only slows down the absorption of glucose but also induces a sense of satiety (fullness) and reduces the absorption of calories. In some of the clinical studies demonstrating weight loss, fiber supplements were shown to reduce the number of calories absorbed by 30 to 180 calories per day. While modest, this reduction in calories would, over the course of a year, result in a 3- to 18-pound weight loss.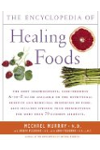 More About this Book
Encyclopedia of Healing Foods
From the bestselling authors of The Encyclopedia of Natural Medicine, the most comprehensive and practical guide available to the nutritional benefits and medicinal properties of virtually everything...
Continue Learning about Getting Started with Weight Loss
Making the decision to lose weight can be a tough one - and all the diet plans and exercise programs available can make it an overwhelming one, too. Start your weight loss journey by knowing your metabolic rate. This gives you an ...
idea of how many calories you can consume and still lose weight; avoid that 'one-last splurge,' and start small with exercises like walking. Simple things like buying smaller plates for portion control and gradually changing your food choices are also steps in the right direction.
More