Gastroesophageal reflux disease (GERD) is when stomach acid moves back up into the esophagus, causing a burning sensation. It is very common in infants, especially premature babies. It's what causes babies to spit up breast milk or formula during the first year of life. Although it usually stops around age 1, an estimated 3-5% of kids in the United States have reflux.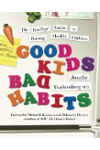 Gastroesophageal reflux, or acid reflux, in children is also known as "heartburn" which has nothing to do with the heart. Reflux is when contents from the stomach travel back up the esophagus and bring stomach acid with them. This stomach acid irritates the esophagus and causes you to feel a burning, or acid, sensation.
If it just happens after spicy meals, acid reflux usually is not a problem. However, if your child is having this sensation after all meals, it can cause food aversion and lack of appropriate weight gain. Talk to your pediatrician about what you can do for your child. It may be a medication or it may be changing the diet. For babies, it can be as simple as thickening the formula so it is harder to spit up, or reflux.
Continue Learning about GERD