An outbreak of genital herpes will usually go away on its own in about one week, but may last as long as a month. When taken early, antiviral medications can help minimize symptoms and heal outbreaks faster, however. Talk to your doctor if your symptoms are severe to discuss possible treatment options.
Continue Learning about Genital Herpes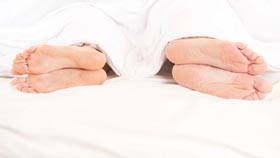 Genital herpes is a sexual transmitted infection that can cause sores or blisters around the genitals. Learn more from our experts about genital herpes.