Unfortunately, there is no cure for genital herpes. Genital herpes is the result of a virus, herpes simplex type 2. After you catch the virus, it remains in your body even after the symptoms of your first outbreak go away. Stress, lack of sleep, menstruation, and sickness can all bring on a genital herpes outbreak. However, the frequency of outbreaks varies from person to person. Some people may only experience one outbreak a year, for example, while others may experience them several times a year.

No. Once you have the virus, it stays in your body and there is a chance that you will have outbreaks. Medicine can shorten and stop outbreaks from happening.
Research is underway to develop new ways to protect women from the herpes virus and prevent its spread. One large study is testing a herpes vaccine for women. Researchers are also working to make gels or creams that would kill the virus before it could infect someone.
This answer is based on source information from National Women's Health Information Center.
Continue Learning about Genital Herpes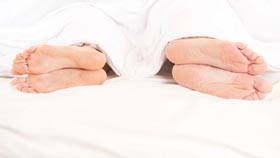 Genital herpes is a sexual transmitted infection that can cause sores or blisters around the genitals. Learn more from our experts about genital herpes.