Epigenetics aren't just important because someday you'll be able to tag your baby's genes for blond hair, a composer's brain, or the ability to hurl a 98 mph fastball. Our bodies need some other kind of mechanism to allow us to adapt. Epigenetics gives our bodies the ability to influence which genes will be turned on - or expressed - or off, or partially on, depending on our immediate environment.

Based on what you're doing right now, your baby is forecasting her future environment. And if the way her genes have been programmed to be expressed doesn't match that environment, problems can occur. So your challenge - dare we say your responsibility - is to provide little Dolly with a healthy environment now so her "internal programming mechanism" predicts and can respond to a healthy environment later.

All of these epigenetic changes that you can make during the development of your child don't just change the way your child's genes are expressed. These changes can also be passed down from generation to generation - meaning that the small changes you make today can affect generations long after you've been said good-bye to - so your responsibility for creating a healthy environment for your offspring is bigger than you may have even thought.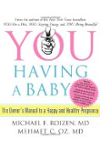 Continue Learning about Genetic Disorders and Birth Defects