Genetic counselors are health professionals who have special skills in presenting information and providing support to pregnant women and families who are thinking about prenatal testing. They are trained to provide information about testing and about the conditions that a fetus may be affected by or might develop, and to provide resources and connections to families and support groups so that you can obtain more information and make a decision that fits with your values. Many genetic counselors belong to a professional society, whose code of ethics describes how genetic counselors should allow their clients to come to their own decisions, without pressure.
It is common for a session with a genetic counselor to be scheduled right before an amniocentesis. The counseling session is meant to provide information and allow for time in which to make a decision. Therefore, you may want to try to have the genetic counseling session apart from - and in advance of - the amniocentesis session.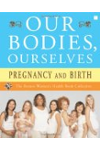 More About this Book
Our Bodies, Ourselves: Pregnancy and Birth
ALL THE INFORMATION YOU NEED TO MAKE WISE DECISIONS ABOUT YOUR PREGNANCY AND THE BIRTH OF YOUR CHILD -- FROM THE EDITORS OF THE CLASSIC "BIBLE OF WOMEN'S HEALTH" Pregnancy and birth are as ordinary...
Continue Learning about Genetic Disorders and Birth Defects