What is genetic counseling?
Learn more from Dr. Peter Hulick on behalf of NorthShore University about genetic counseling for genetic disorders.


Genetic counseling (or consultation) is a service providing information and support to families who have members with birth defects or genetic disorders and to families who may be at risk for a variety of inherited conditions. During appointments, genetics professionals may identify families at risk, investigate the problem present in the family, interpret information about the disorder, analyze inheritance patterns and risks of recurrence and review available options with the family. A genetics professional providing genetic counseling could include a doctor specializing in genetics (medical geneticist) or a genetic counselor. Genetic counselors also provide supportive counseling to families, serve as patient advocates and refer individuals and families to community or state support services. They serve as educators and resource people for other health care professionals and for the general public. Some psychologists, nurses, and social workers with training in genetics also offer genetic counseling.
Continue Learning about Genetic Disorders and Birth Defects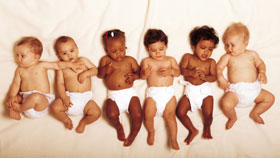 Genes contain DNA, the code that directs the development of cells. A mutation in a gene or a cluster of genes can cause a genetic condition or birth defect. Learn more from our experts about genetic disorders and birth defects.