Methionine and cysteine are inter-convertible sulfur-containing amino acids. Methionine is considered an essential amino acid; while cysteine is not. These sulfur-containing amino acids are very important to the health of connective tissue, joints, hair, skin, and nails. They are also utilized by the body in detoxification reactions, helping the body to excrete heavy metals, and reducing bladder irritation by regulating the formation of ammonia in the urine. Methionine is also converted in the body to S-adenosyl-methionine (SAM,or SAMe).This compound is involved in more than forty biochemical reactions in the body. It functions closely with folic acid and vitamin B12 in "methylation" reactions. Methylation is the process of adding a single carbon unit (a methyl group) to another molecule. SAMe is many times more effective in transferring methyl groups than other methyl donors.
Methylation reactions are critical in the manufacture of many body components, especially brain chemicals, as well as in detoxification reactions. SAMe is also required in the manufacture of all sulfur containing compounds in the human body, including glutathione and various sulfur-containing cartilage components, such as chondroitin sulfate. SAMe supplementation has produced positive results in the treatment of depression, osteoarthritis, fibromyalgia, liver disorders, and migraine headaches. Cysteine is a key component of the important tripeptide, glutathione, an important antioxidant in cells. The N-acetyl form of cysteine (NAC) can be used to increase glutathione levels in well-nourished people. However, if malnourishment is a concern, NAC should be combined with glutamine to increase glutathione levels. NAC is also used to thin secretions in chronic mucus-forming conditions. Methionine and cysteine are found mainly in meat, fish, eggs, and dairy products.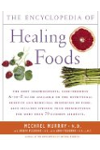 More About this Book
Encyclopedia of Healing Foods
From the bestselling authors of The Encyclopedia of Natural Medicine, the most comprehensive and practical guide available to the nutritional benefits and medicinal properties of virtually everything...
Continue Learning about Genetic Disorders and Birth Defects