Just as an overaggressive guard dog can go bad, so can your p53 protein. It can be too aggressive, even though on the surface it's doing the right thing. In your body, the p53 gets too aggressive by killing off perfectly good cells and inducing the state of gradual organ wear and tear that contributes to aging and frailty. In strokes, much of the damage is actually done not by the deprivation of oxygen due to an artery's being cut off, but by the restoration of blood flow once it opens up. This restoration causes a misactivation of p53 and kills cells that are essentially normal.

Sometimes p53 can become overstimulated and halt replication in your progenitor cells (another name for your adult stem cells), which is a bad thing—especially when you're older and don't have as many progenitor cells to help revitalize your organs. By stopping reproduction of progenitor cells, you reduce the ability of your body to repopulate organs, meaning you may end up without enough cells in your lungs or liver or kidney or anywhere else, for that matter. Lack of these progenitor cells equals less repaired organs.

That's especially important as you age, because progenitor cells are also prone to oxidative stress—making your p53 even more dangerous. In rats with elevated p53 action, for example, life expectancy is 20 percent shorter, and it also comes with a side order of old-age symptoms like muscle atrophy, thin skin, and hunched backs.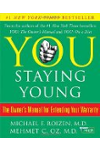 Continue Learning about Genetic Disorders and Birth Defects