You were born with a genetically programmed weight range. Some nifty research has demonstrated this fact for us. In her book Rethinking Thin, the New York Times science writer Gina Kolata describes two studies performed by Ethan Sims, a scientist at the University of Vermont, in the 1970s. Sims recruited prisoners to voluntarily become fat by eating as much as they wanted. Monitoring the men as they stuffed themselves with up to ten thousand calories per day, Sims expected them to gain weight rapidly -- but he was stunned when it took them somewhere between four and six months to become obese. This was much longer than anyone had expected. Sims then found a reason for the men's relative difficulty gaining weight: When the men increased their caloric intake, their metabolisms accelerated by up to 50 percent. Then Sims found a group of extremely obese men and had them diet until they reached the same weight as the now-heavy prisoners. This second group needed half the number of calories to maintain their weight as the first group did -- which, you will surely agree, is completely unfair. Half the number of calories for the exact same weight! At the end of the study, the newly obese prisoners went back to their normal eating patterns and easily returned to their previous weights.

"Calories in, calories out," chant the diet books, implying that all people burn calories at the same rate. According to this theory, big people are big simply because they eat so very much more than their slender counterparts -- and weight gain is inversely proportional to the amount of a person's self-control. But Sims's studies, and others like it, suggest this is not necessarily the case. It's far more likely that each of us has a genetically programmed weight range of about ten to twenty pounds. One person's natural range might be from 160 to 180 pounds, while another's might be from 115 to 130. Yet both people may eat the same number of calories and perform roughly the same amount of exercise.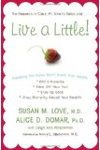 There is a genetic component to weight. Everyone has specific genetic coding, as part of that genetic coding everyone has a predetermined weight range. This is called "set-point", and is considered the generally healthy weight range that someone can stay in without extreme dieting, or extreme overeating.
Continue Learning about Genetic Disorders and Birth Defects