Glutamine is the most abundant amino acid in the body and is involved in more metabolic processes than any other amino acid. It is also the most abundant amino acid in the blood and in the free amino acid pool of skeletal muscle. Glutamine stimulates the synthesis, and inhibits the degradation, of proteins and is an energy source for muscle cell division. Glutamine is also a precursor for the synthesis of amino acids, proteins, nucleotides, glutathione, and other biologically important molecules. Glutamine has an anabolic effect on skeletal muscle. Glutamine is especially important as a source of fuel for cells lining the intestines and for the proper functioning of white blood cells. Glutamine is utilized at higher rates by these and other rapidly dividing cells. Without glutamine, these cells will not divide properly. Glutamine is a major amino acid in most foods. In general, the higher the protein content, the higher the glutamine content. Whey protein and eggs are two particularly good sources of glutamine.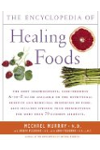 More About this Book
Encyclopedia of Healing Foods
From the bestselling authors of The Encyclopedia of Natural Medicine, the most comprehensive and practical guide available to the nutritional benefits and medicinal properties of virtually everything...
Continue Learning about Genetic Disorders and Birth Defects