To assess the quality of a protein, scientists measure the proportion of the amino acids that are absorbed, retained, and used in the body to determine the protein's biological value (BV). The food source that has the highest biological value protein is whey protein. Whey is a natural by-product of the cheese-making process. Cow's milk has about 6.25 percent protein. Of that protein, 80 percent is casein (another type of protein), leaving the whey behind.
Eggs contain the second highest quality food protein known. Some people consider the egg to be a nearly perfect food. In fact, egg protein is often the standard by which all other proteins are judged.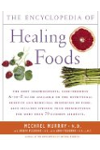 More About this Book
Encyclopedia of Healing Foods
From the bestselling authors of The Encyclopedia of Natural Medicine, the most comprehensive and practical guide available to the nutritional benefits and medicinal properties of virtually everything...
Continue Learning about Genetic Disorders and Birth Defects