In the U.S., it is estimated that approximately 72 percent of protein in the diet is from animal products - specifically, 49 percent from meat, fish, and poultry; 18 percent from dairy products; and four percent from eggs. In contrast, plant foods account for only 28 percent of the protein intake. Of this, grains provide 18 percent, fruits and vegetables provide eight percent, and legumes provide another three percent.
It is often difficult to separate the effects of animal protein from the effects of animal fats because they are highly correlated. When animal protein intake is high, animal fat intake is also high. This makes it difficult for researchers to determine the effects of a high-protein diet based on population studies, as the source of protein cannot be identified. Despite this obstacle, evidence suggests that reliance on animal proteins is linked to the development of several chronic degenerative diseases. For example, there is evidence that the body handles animal proteins differently from plant proteins. This is supported by population studies and animal studies comparing vegetarians to omnivores. The evidence indicates that it is not simply a matter of protein quantity that is important, but that the source of the protein is equally important.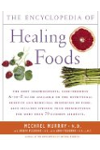 More About this Book
Encyclopedia of Healing Foods
From the bestselling authors of The Encyclopedia of Natural Medicine, the most comprehensive and practical guide available to the nutritional benefits and medicinal properties of virtually everything...
Continue Learning about Genetic Disorders and Birth Defects