Some evidence suggests that overtraining results in low glutamine levels and that glutamine supplementation can help prevent over training, as well as help an athlete recover from over training. Plasma glutamine concentrations increase during exercise. However, during the post exercise recovery period, plasma glutamine concentrations decrease significantly. Several hours of recovery are required before plasma levels are restored to pre-exercise levels.
If recovery between exercise bouts is inadequate, the acute effects of exercise on plasma glutamine concentrations can be cumulative, leading to very low levels of glutamine. This situation can have extremely detrimental effects on athletic performance and muscle growth. Glutamine supplementation has been shown to boost muscle levels of glutamine and promote muscle protein synthesis. However, it does not appear to enhance exercise performance. Instead, the clearest benefit of glutamine supplementation in athletes is in prevention of infections.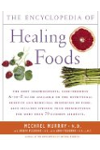 More About this Book
Encyclopedia of Healing Foods
From the bestselling authors of The Encyclopedia of Natural Medicine, the most comprehensive and practical guide available to the nutritional benefits and medicinal properties of virtually everything...
Continue Learning about Genetic Disorders and Birth Defects