In addition, epithelial stem cells in the lining of the digestive tract occur in deep crypts and give rise to several cell types: absorptive cells, goblet cells, paneth cells, and enteroendocrine cells. Skin stem cells occur in the basal layer of the epidermis and at the base of hair follicles. The epidermal stem cells give rise to keratinocytes, which migrate to the surface of the skin and form a protective layer. The follicular stem cells can give rise to both the hair follicle and to the epidermis.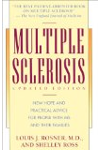 More About this Book
Multiple Sclerosis
Too often, multiple sclerosis is thought of only as "the crippler of young adults." But in fact, 75 percent of all people with MS will never need a wheelchair. In Multiple Sclerosis, Dr. Louis J....
Continue Learning about Genetic Disorders and Birth Defects