This special blood test detects neural-tube defects in the fetus. However, elevated levels of alpha-fetoprotein are frequent, occurring in about 50 out of 1,000 women tested. Only one or two of those actually have a fetus with a neural-tube problem such as spina bifida. Multiples or a miscalculation of the baby's age can cause an abnormal reading. If your reading is elevated, an ultrasound may be done to determine the reason for the reading and scan for birth defects. That said, an abnormally high level of alpha-fetoprotein in the amniotic fluid indicates a 90% chance of a serious problem. An abnormally low reading may indicate a chromosomal problem, such as Down syndrome.
Continue Learning about Genetic Testing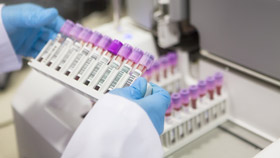 Genetic testing looks for evidence that you have a disease, may be more likely to develop a disease or possibly pass on a disease to your children. Testing can be done on samples of hair, skin or blood, and in the case of prenatal ...
testing, amniotic fluid. Genetic testing can also help determine best treatment options.
More