Currently there are no highly effective mitochondrial disease treatments. Though related symptoms, such as seizures or attention problems, can be managed with various medications, the mitochondrial disease itself is unchanged. Unfortunately, supplements such as coenzyme Q10 (CoQ10) and l-carnitine have little to no effect on most patients.
Treatment of mitochondrial diseases tends to vary with each individual and depends on the severity and organs that are affected. Proper treatment can help to reduce the severity of the symptoms and help slow the disease's progression. Treatments often include vitamin regimens, diet or enzyme therapy, and occupational or physical therapy to help maintain mobility, depending on what part of the body the disease is affecting.
Continue Learning about Genetic Disorders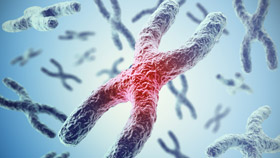 Genetic disorders are caused by inherited genetic traits or as a result of chromosomal abnormalities. Mutations can be random or caused by an environmental exposure. Screening for genetic disorders can occur before conception (tes...
ting parents for certain markers) and at birth.
More