Although mitochondrial disease may seem rare, it in fact affects one in 2,500 peeople. Mitochondrial disease is more common than childhood cancer. Further, it is related to many more familiar diseases, including autism, Parkinson's, Alzheimer's, Lou Gehrig's disease (ALS), muscular dystrophy and chronic fatigue syndrome. Diagnosing mitochondrial disease can be a long and frustrating journey for a patient or a family because it often looks like several other disorders.
Studies show that one child in 4,000 will develop mitochondrial disease by the age of 10. Between 1,000 and 4,000 children are born with mitochondrial disease each year. Many are misdiagnosed at first, based on the symptoms, with a more complete diagnosis coming much later as the disease progresses. Studies have also revealed that many diseases that plague large numbers of aging adults, such as dementia, stroke, Alzheimer's disease, and Parkinson's disease are related to mitochondrial defects.
Continue Learning about Genetic Disorders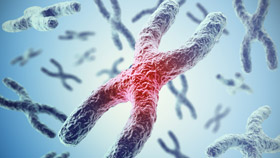 Genetic disorders are caused by inherited genetic traits or as a result of chromosomal abnormalities. Mutations can be random or caused by an environmental exposure. Screening for genetic disorders can occur before conception (tes...
ting parents for certain markers) and at birth.
More