The Foundation for Mitochondrial Medicine's mission is to support the development of the most promising research and treatments of the many forms of mitochondrial disease.

It's the web of complexity and connectivity in mitochondrial diseases that makes research valuable to so many. A cure for this disease could affect cures for autism, Parkinson's disease, Alzheimer's disease, Lou Gehrig's disease, muscular dystrophy and chronic fatigue syndrome.
Continue Learning about Genetic Disorders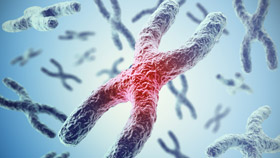 Genetic disorders are caused by inherited genetic traits or as a result of chromosomal abnormalities. Mutations can be random or caused by an environmental exposure. Screening for genetic disorders can occur before conception (tes...
ting parents for certain markers) and at birth.
More