Mitochondrial disease is an energy production problem. Almost all cells in the body have mitochondria, which are tiny power plants that produce a body's essential energy. Mitochondrial dysfunction means the power plants in cells don't function properly. When that happens, some functions in the body don't work normally. It's as if the body has a power failure: there is a gradation of effects, like a brown out or a black out. The disease primarily affects brain, heart and muscle cells in varying degrees.
Mitochondrial diseases result when the mitochondria in the cell malfunction. Mitochondria are the energy producers of a cell and are responsible for many different functions. Mitochondrial diseases eventually lead to cell death, because successively less energy is being supplied to the cell. Due to the many functions of the mitochondria, there are hundreds of different mitochondrial diseases. Mitochondrial diseases are also medically referred to as mitochondrial cytopathies.

Continue Learning about Genetic Disorders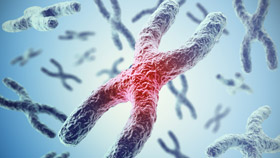 Genetic disorders are caused by inherited genetic traits or as a result of chromosomal abnormalities. Mutations can be random or caused by an environmental exposure. Screening for genetic disorders can occur before conception (tes...
ting parents for certain markers) and at birth.
More