If one of your family members has (or had) a serious medical problem, that doesn't automatically mean you'll experience the same health issue. But it's often a pretty good bet. Your genes determine your health to a great extent, but you can decide how you'll use that info to safeguard and improve your health.

To best tell how likely it is that you'll inherit a family member's health problem, ask the following six questions. If you answer yes to more than two, you're at moderate risk. If you answer yes to three or more, you're at high risk of inheriting the condition, so make sure you and your doctor keep a watchful eye.
Is this an immediate, full-blood relative? That's a mother, father, or a sibling (not a stepsibling).
Did this relative get the disease with a suspected genetic link before age 65?
Did this relative die from this disease before age 65?
Was this disease likely caused by a genetic link and not by environmental or lifestyle factors? (If the relative - was a heavy smoker, a heavy drinker or had a toxic or hazardous exposure at work then these likely caused or contributed to the disease).
Is there at least one other blood relative who also has/had any of these same diseases?
Do you look like this relative, either inside or out? Meaning, do you have the same body type, same cholesterol problem, same bad temper, etc.?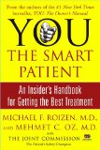 Continue Learning about Genetic Disorders