Elevated levels of lactic acid in the blood can be a symptom of mitochondrial diseases; however, elevations in lactic acid could also indicate the presence of a metabolic condition or acute illness. Additionally, some mitochondrial diseases do not cause elevated levels of lactic acid as a symptom. If the presence of elevated lactic acid levels is combined with other symptoms, it warrants further evaluation. Having said this, all mitochondrial disease patients have the same symptoms, however. Mitochondrial disease manifest differently in each person; no two people have the same symptoms. You should talk with your doctor for more information.
Continue Learning about Genetic Disorders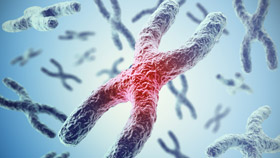 Genetic disorders are caused by inherited genetic traits or as a result of chromosomal abnormalities. Mutations can be random or caused by an environmental exposure. Screening for genetic disorders can occur before conception (tes...
ting parents for certain markers) and at birth.
More