Anything that you have determined is on your plan! Having a plan is the first place to start. When you have a plan you know what to do that will lead to success. A registered dietitian (RD) can help you develop a plan that works for you. Individualizing a plan so that it fits your lifestyle is key. You have to look at issues like how often do you eat out? Do you hate to cook? What is ready to grab when you get home? Who does the shopping? Often figuring out these issues will make knowing what to eat for weight loss clear. The more you do to set up an environment that lets you be successful at fulfilling your goals, the better chance you have at long term weight loss and weight maintenance.
Simply said: Less than you are eating now. Eating less food will help you lose weight, but you also want to be healthy. For healthy weight loss, eat plenty of fruits and vegetables. They are low in calories, high in nutrients, and filling. Follow the MyPlate guidelines. Eat a little protein. Eat a small amount of carbohydrate. Include a source of calcium and make half your plate fruits and vegetables. Eating the MyPlate way is a natural way to lose weight and be healthy.
What you eat should be what you like if you stay within the healthy food guidelines such as eating whole grains instead of processed flours, lean meats like chicken, fish, and reducing the fattier red meats. You want to increase your intake of fruits and vegetables and cut back on fats and sugars. Your body needs a certain amount of fat, but stay away from trans fats in chips, crackers, etc. and use olive oil ( a healthy fat high in OMEGA 3). Making small changes in food choices can make big differences…for example, one can of soda is approximately 150-160 calories, cutting back or substituting flavored water can make a big difference in your caloric intake. Diluting your fruit juices with water also reduces calories.
But, equally as important as what you eat is portion size. When you portion out your plate, half should be vegetables, one quarter proteins, and the last quarter whole grain starches. (Whole grains will keep you fuller longer) So, try to pick healthy foods, cut back on portion size, eat slowly (for better digestion) and enjoy your food!
You want to eat foods with fiber, healthy fats (monounsaturated and polyunsaturated), whole-grain carbohydrates, protein, as well as fruits and vegetables. Eat a little healthy fat before you meal (like one handful of nuts) to allow the satiety signal to go from your brain to your stomach, so you don't overeat during your meal.

Eat fiber in the morning to help control afternoon cravings. Staying hydrated is important, and remember to drink a glass or two of water before you eat. Your perception of hunger signals may actually be thirst signals.

Finally, eat anti-inflammatory foods to help counteract the effects of obesity, like green tea, omega-3 fatty acids (found in fish and walnuts), coffee, vegetables, and fruit.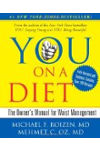 Continue Learning about Weight Loss Diets