The blood type diet is the culmination of nearly four decades of work conducted by Peter D'Adamo, N.D., and his father, James D'Adamo, N.D. It was popularized by the best-selling book of the younger D'Adamo, Eat Right 4 Your Type.
The principles of the blood type diet are based on the theory that people with different blood types respond differently to specific food items. The concept is also based on evolutionary history and the observation that different blood types emerged as the environmental conditions and eating styles of our ancestors changed.
In olden times, all humans shared the same blood type: type O. These early humans were skilled hunters and thrived on a meat-based diet. The type A blood type emerged as a necessary adaptation to a more agrarian lifestyle.
Climatic changes in the western Himalayas led to the appearance of type B, and the blending of type A and type B blood types in modern civilization resulted in the appearance of the type AB blood type. According to the blood type diet, the physiological reason why people should eat according to their blood type relates to lectins, protein-like substances found in much commonly eaten food. Lectins, also known as phytohemagglutins, were first identified in 1888, when it was discovered that lectins interact with sugar-containing molecules on the surface of cells. This discovery allowed certain lectins to be used in blood typing because a blood type is determined by the presence or absence of specific sugar protein residues on the surface of red blood cells. Although most of the lectins found in food are destroyed by cooking or digestive enzymes, Dr. D'Adamo believes that as many as 5 percent of the lectins we take in through our diet are absorbed into the bloodstream, and some of these are incompatible with our blood type. Many food lectins look very similar to the antigen that determines one of the four blood types. As a result, when a lectin that looks similar, for example, to the type O antigen is eaten by a person with type A, type B, or type AB blood, the immune system recognizes that lectin as a foreign invader. Dr. D'Adamo interprets this lectin-caused immune response to be the origin of many common health complaints and believes that if you want to prevent health problems, it is important to eat food that is compatible with your blood type.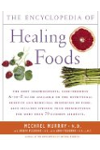 More About this Book
Encyclopedia of Healing Foods
From the bestselling authors of The Encyclopedia of Natural Medicine, the most comprehensive and practical guide available to the nutritional benefits and medicinal properties of virtually everything...
Continue Learning about Weight Loss Diets