Here are some of my slow-carb meals that recur again and again:
Breakfast (home): Scrambled Eggology pourable egg whites with one whole egg, black beans, and mixed vegetables warmed up or cooked in a microwave using Pyrex containers.
Lunch (Mexican restaurant): Grass-fed organic beef, pinto beans, mixed vegetables, and extra guacamole.
Dinner (home): Grass-fed organic beef (from Trader Joe's), lentils, and mixed vegetables.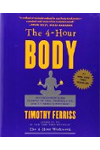 Continue Learning about Weight Loss Diets