The Ornish diet is a low-fat, vegetarian diet with an emphasis on the inclusion of whole grains, beans, fruits, vegetables, (~70%-75% carbs), 15-25g fat (less than 10% of calories from fat), 15-20% protein. No animal products are allowed except egg whites and nonfat dairy products. Nuts, seeds, avocado, and other fats are excluded. Canola oil in small amounts to meet the omega 3 fats are allowed. No caffeine is allowed but alcohol in moderation is allowed. There are two varieties of this diet--Reversal diet and the Prevention diet.
Dean Ornish, M.D., is the developer of the Ornish diet. It is quite similar to the diet that Nathan Pritikin developed and popularized in the 1970s. Both diets are basically the opposite of the Atkins' diet. While the Atkins' regimen is high in fat and protein and low in carbohydrates, the Ornish diet program is low in fat and protein and high in whole-grain, natural complex carbohydrates. The Ornish prescription is to consume 10 percent of calories as fat, 70 to 75 percent of calories as complex carbohydrates, and 15 to 20 percent of calories as protein. The Ornish diet excludes all animal products, except non-fat milk and nonfat yogurt. It also restricts all plant food that is high in fat, such as avocados, nuts, and seeds.
Dr. Ornish and his colleagues have shown quite convincingly in well-designed clinical studies that his diet can reverse heart disease. The main objections to the Ornish diet are that it is too restrictive and does not provide a sufficient amount of beneficial fats, such as monounsaturated fats and omega-3 fatty acids. In particular, the Ornish diet excludes fish, despite a significant body of research that demonstrates the protective effect of fish (and fish oil) consumption against heart disease.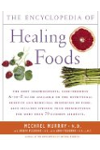 More About this Book
Encyclopedia of Healing Foods
From the bestselling authors of The Encyclopedia of Natural Medicine, the most comprehensive and practical guide available to the nutritional benefits and medicinal properties of virtually everything...
Continue Learning about Weight Loss Diets