The traditional Mediterranean diet has a lot of fruits, vegetables, seafood, legumes and olive oil. In this video, I will explain the benefits of this diet.
The term "Mediterranean diet" refers to nutritional patterns found in countries along the Mediterranean basin where the lifestyle historically has been associated with good health. The diet is based on fruits, vegetables, grains, and healthy fats. Scientists are now taking a second look at the effects this diet has on people's health because the life expectancy in these countries is among the highest in the world, and heart disease and other diet-related diseases are among the lowest.
The "diet" goes beyond food, however. In the Mediterranean region, people have daily physical activity, use alcohol moderately, do not smoke, and look forward to sharing meals with family and friends instead of eating in a rush. Studies have shown the combined effect of recommended foods and activities is associated with a 50% lower risk of mortality.
The Mediterranean diet consists of lots of olive oil, fruits, vegetables, legumes, nuts, and fish, along with moderate red wine. You should eat less meat, using white meats more than red. Also, the Mediterranean diet recommends avoidance of butter, cream, fast food and sweets.
Study after study has shown that the "Mediterranean diet"--named for the diet of populations of countries surrounding the Mediterranean Ocean (specifically Italy and Greece)--has significant benefits, including lower rates of stroke, hypertension and heart attack.

• The diet consists mostly of plant foods (fruits, vegetables, grains, beans, nuts and seeds), with animal protein consumed in the forms of fish and poultry, olive oil as the principal fat, and wine taken with meals.

• Its benefits include greater weight loss than the low-fat diet, significantly reduced mortality rates as a result of heart disease and stroke, as well as astonishingly low instances in the occurrence of type 2 diabetes.

• The key components of the diet include: lots of vegetables (especially legumes), plenty of whole fruit and nuts, as well as whole grains and monounsaturated fat.
The mediterranean plan is a goldstandard and favorite diet among dietitians due to its health benefits. It promotes the intake of olive oil, legumes (beans, lentils), fruits/figs, vegetables, whole grains and even dark chocolate and red wine. These last two need to be consumed in moderation of course. Olive oil, especially extra virgen, contain healthy fats associated in lower incidence of heart diseases. Legumes and whole grains are packed with nutrients and fiber that are very beneficial to all. Fruits and vegetable contain vitamins, minerals and phytonutrients which has been found to promote health and prevent a number of diseases. Small amounts of dark chocolate and red wine can be enjoyed and provide heart benefits too.
The Mediterranean diet is really an outline or template based on the lifestyle of those who live in the Mediterranean region. It's a holistic approach to a healthier lifestyle, asking for a true commitment to better food choices, physical activity and even the concept of leisurely dining. So it's not a diet per se -- but rather a lifestyle ideal mimicking the way people in the Mediterranean region live their lives. The food template draws on diets from Spain to the Middle East.

The eating program includes: vegetables and fruits, whole grains, nuts, olives, olive oil, small amounts of cheese, yogurt, fish, poultry, eggs and wine. What's not to love? Obviously you need to find a caloric balance that meets your weight and health needs, but clearly there is no deprivation on a program like this. Preparation of foods is simple, and deep frying is not an option. Rarely included but not forbidden are meat, sweets and foods heavy in saturated fat or sodium. You should also buy into the recommendation of frequent family meals that are slow and allow you to savor your food, and regular physical activity.
The Mediterranean diet consists mostly of plant foods (fruits, vegetables, grains, beans, nuts, and seeds); animal protein consumed chiefly in the forms of fish and poultry; olive oil as the principal fat; and wine taken with meals.

Although the diet was a product of the foods easily cultivated or gathered in that region centuries ago, modern research confirms its unintentional wisdom. Multiple compounds in plant foods appear to act as antioxidants, slowing the aging process and hindering the development of cancer and heart disease. By slowing digestion, the fiber in whole grains, legumes, and fruit can help keep blood sugar under control; fiber also creates a feeling of fullness, which may help satisfy appetite. The monounsaturated fats in olive oil, nuts, and fish can have anti-inflammatory effects, which may help stave off heart disease and many other conditions. Perhaps most important to its success is that Mediterranean-style eating excludes many foods known to cause health problems: saturated fat from animal sources, trans fat, and refined carbohydrates.
The Mediterranean diet is based on the typical diet of those living in or around southern Italy, Crete and Spain. This diet consists of abundant plant foods, fresh fruit for dessert, olive oil as the principal source of fat, dairy products (principally cheese and yogurt), fish and poultry consumed in low to moderate amounts, zero to four eggs consumed weekly, red meat consumed in low amounts, and wine consumed in low to moderate amounts. Total fat in this diet is 25% to 35% of calories, with saturated fat at 8% or less of calories.
The Mediterranean Diet is based on the diet circa 1960 in several areas of the Mediterranean region, specifically the Greek island of Crete, other areas of Greece and southern Italy. Researchers were drawn to these areas because the adults living there had very low rates of chronic diseases, such as heart disease and cancer, as well as very long life expectancy. For example, the natives of Greece had a rate of heart disease that was 90 percent lower than that of Americans at the time.

In addition to a physically active lifestyle, these Mediterranean natives consumed a diet that was rich in grains, fruits, vegetables, legumes, and nuts. In fact, more than 60 percent of the calories in their diets in the 1960s were supplied by these high-fiber, nutritionally-dense plant foods. The majority of the fat in the diet was provided by olives and olive oil, and fish and seafood was enjoyed at least twice a week. (Note: the latest recommendation from the USDA is to consume at least two fish meals, especially fatty fish such as salmon, weekly to increase longevity.)
One diet that provides an optimal intake of the right types of fat is the traditional "Mediterranean diet." This term reflects the food pattern in some Mediterranean regions in the early 1960s, such as Crete, parts of mainland Greece, and southern Italy. The traditional Mediterranean diet has shown tremendous benefit in fighting heart disease and cancer, as well as diabetes.
Such a diet has the following characteristics:
Olive oil is the principal source of fat.
The diet centers on an abundance of plant food, including fruits, vegetables, breads, pasta, potatoes, beans, nuts, and seeds.
Food is minimally processed, and there is a focus on seasonally fresh and locally grown food.
Fresh fruit is the typical daily dessert, and sweets containing concentrated sugars or honey are consumed a few times per week at the most.
Dairy products, principally cheese and yogurt, are consumed daily in low to moderate amounts and in low-fat varieties.
Fish is consumed on a regular basis.
Poultry and eggs are consumed in moderate amounts, about one to four times weekly, or not at all.
Red meat is consumed infrequently and in small amounts.
Wine is consumed in low to moderate amounts, normally with meals.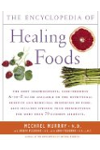 More About this Book
Encyclopedia of Healing Foods
From the bestselling authors of The Encyclopedia of Natural Medicine, the most comprehensive and practical guide available to the nutritional benefits and medicinal properties of virtually everything...
The Mediterranean diet emphasizes whole grains, vegetables, beans, peas, nuts and seeds and fruits with a small amount of animal based protein foods-fish is the primary protein recommended, and full fat dairy products including yogurt and cheese, and wine. The total fat content is not much lower than the typical American diet but has the strong focus on monounsaturated fats. Health benefits have been shown from following this diet although physical activity is also an important lifestyle to achieve the health benefits.
Like low-fat diets, the Mediterranean eating pattern focuses on fruits, vegetables, whole grains, nuts and seeds, but it also includes olive oil as a significant source of monounsaturated fat and wine in low to moderate amounts. The major protein sources are dairy, fish and poultry, with minimal red meat. Some large studies also point to the Mediterranean-style diet as an alternative pattern of eating to reduce your risk of heart disease.

The Mediterranean eating style allows a higher percentage of calories from fat than the low-fat diets typically endorsed by health organizations, but several recent major studies have shown that the diet is an acceptable alternative to low-fat diets, especially for lowering risk of diabetes and heart attacks, often related to weight. And the additional "good" fat contributes to a feeling of satiety in some.
Continue Learning about Weight Loss Diets