The most successful dieters on a slow-carb diet, regardless of whether their goal is muscle gain or fat- loss, eat the same few meals over and over again. There are 47,000 products in the average U.S. grocery store, but only a handful of them won't make you fat.
Mix and match from the following list, constructing each meal with one pick from each of the three groups:
1. Proteins:
Egg whites with 1-2 whole eggs for flavor (or, if organic, 2-5 whole eggs, including yolks)
Chicken breast or thigh
Beef (preferably grass-fed)
Fish
Pork
2. Legumes:
Lentils (also called "dal" or "daal")
Black beans
Pinto beans
Red beans
Soybeans
3. Vegetables:
Spinach
Mixed vegetables (including broccoli, cauliflower, or any other cruciferous vegetables)
Asparagus
Peas
Broccoli
Green beans
Eat as much as you like of the above food items, but keep it simple. Pick three or four meals and repeat them. Almost all restaurants can give you a salad or vegetables in place of french fries, potatoes, or rice.
Surprisingly, I have found Mexican food (after swapping out rice for vegetables) to be one of the cuisines most conducive to the Slow-Carb Diet. If you have to pay an extra $1-3 to substitute at a restaurant, consider it your six-pack tax, the nominal fee you pay to be lean.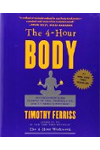 Continue Learning about Weight Loss Diets