More than giving up a second slice of pizza, calorie restriction is a diet that eliminates up to 30 percent of the calories consumed daily while still consuming all necessary nutrients. If you need about 2,000 calories daily to maintain your weight, a calorie-restricted diet would mean an intake of about 1,400 calories - eliminating at least an entire meal. Assembling a menu is hard work. Simple sugars and flours are the first foods to go.
One sample diet might include a breakfast of a 30-ingredient "megamuffin" made of raw wheat germ, a carrot, strawberries and rice bran; lunch of a protein bar or a roast-beef sandwich without the bread; and a dinner of broccoli, zucchini, canned pink salmon and fruit salad.
The greatest year for aging Americans: 1935. That April, it was found that the lifespan of laboratory rats could be extended considerably by putting them on a serious calorie-restricted diet.

You'd think the rats would have been ecstatic. Living longer, plus retirement income. But no! Although they were living longer, the rats complained that their quality of life had declined. But since calories represent energy and energy is required to function, it wasn't surprising that the rats were tired all the time. What is surprising, though, is that their sluggishness passed.

After a few months, the rats felt their strength returning. This didn't seem to make any sense. Their miracle diet cut the amount of calories the rats were eating by more than 30 percent. That large a cutback not only should have caused the rodent version of chronic fatigue syndrome but should have left the rats with less energy available to fight the aging process. But this wasn't happening. The rats were living 50 percent longer than before and seemed to be loving every minute.

Had the rodents discovered the rat chow version of the fountain of youth? Not exactly. The rats' bodies had interpreted the calorie cutback as a famine. And when the famine alarm was sounded, the rats shifted into survival mode.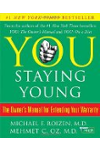 Continue Learning about Weight Loss Diets