In the 1950s and 1960s, Dr. Clinton Thienes of the Huntington Memorial Hospital multiple sclerosis (MS) Clinic in Pasadena, California, believed that beef pancreas, injected into the muscle, had a therapeutic value in MS treatment. In some cases speech and spasticity improved to some degree, but the progressive cases showed no change. In all, this treatment is considered ineffective. It has also been tried in pill form, since repeated injections of large, foreign molecules can cause life-threatening reactions.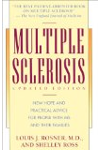 More About this Book
Multiple Sclerosis
Too often, multiple sclerosis is thought of only as "the crippler of young adults." But in fact, 75 percent of all people with MS will never need a wheelchair. In Multiple Sclerosis, Dr. Louis J....
Continue Learning about Gastrointestinal Agent