Hydration is very important after gastric bypass surgery because it helps to prevent constipation. In the weeks after surgery, we try to encourage patients to keep water everywhere in the house. I expect my patients to sip on water. Gulping on water or drinking water through a straw can actually cause air to get into the stomach, which could interfere with recovery.
Adequate fluids is very important after surgery to make sure you do not become dehydrated. Typically it is 8, 8 oz glasses but may vary from person to person. It is crucial that you do not guzzle the 64 oz or even 8 oz all at once but rather sip at it throughout the day. Your stomach is not large enough to take 8 oz of fluid at once and especially if you have had a meal. This is why it is suggested to drink separately from eating.
For me, "plenty" was sixty-four ounces. Some of it, water; some of it, protein shake; and some of it, juice - but not sugary and otherwise adulterated juices, but, rather, pure fruit and vegetable juices. Before I went to the hospital, I brought my juicer down from one of those forsaken cabinets and cleaned it up bright. I made sure that when I came home, an assortment of fresh pineapples, oranges, and apples would be waiting for me. In the weeks to come, sometimes I made juices straight - say, just pineapple, or just orange. Sometimes I concocted blends, such as pineapple-pear, tomato-apple, and all tomato with a splash - just a tiny splash - of Tabasco sauce. I once made a V8-like juice, with radish, celery, carrot, tomato. After awhile, I had to start hiding my juices because my family began drinking them up. At night I'd make a batch to last me a week, and don't you know half of it was gone the next day.
My plan also allowed for calorie-free drinks. Rather than buy suah bevar!ges, I simply flavored my perified water with a few squeezes of a lemon& I also kept lemon-, orange-, and pineapple-flavored ice cubes /n hand to break up the monotony of The sipping . . . sipping . . . sippang.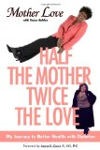 Continue Learning about Gastric Bypass Surgery (Roux-en-Y)