History: "G" stands for Grafenberg, the gynecologist who "discovered" the spot. In 1950 he wrote an academic article about the role of the urethra in female sexual response, particularly with regard to orgasm through vaginal penetration. The "G-spot" was named by researchers Beverly Whipple and John Perry, 30 years after Grafenberg's original article was published.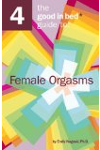 More About this Book
The Good in Bed Guide to Female Orgasms
Want to learn how to achieve 487 different kinds of orgasms?If so, you're reading the wrong guidebook. Despite what many in the media would have you believe, there's no such thing as a rainbow...
Continue Learning about G-Spot Stimulation