To sum up, I'll give you three general guidelines to follow while you're exploring the G-spot: Start slow, go long, and relax.
1:Start slow. Remember, the G-spot is easier to find and more erotically sensitive when you're already aroused. Spend time with nonpenetrative stimulation before you go for the G-spot.
2:Go long. Take your time and allow your arousal level to build. Feel free to alternate between G-spot and clitoral stimulation, or do both simultaneously. G-spot stimulation can generate a very intense level of arousal, but it often takes time to build up. Allow for half an hour or even an hour -- it's better than a long, hot bath!
3:Relax. Because it can take time, you might worry that it's taking too long, or you might start wondering if it's working. Remember: Your definition of success is enjoying this new experience and not wondering if you're doing it "right." If it feels good, you're doing it right. Allow yourself to feel good without having any goal beyond just experiencing this pleasure.
G-spot play is all about expanding your sexual potential and exploring your sexual landscape. Getting to know your body and all the glorious things it can do for you is a reward in and of itself. Give the G-spot a try and see how it changes your sexuality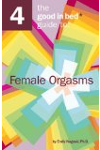 More About this Book
The Good in Bed Guide to Female Orgasms
Want to learn how to achieve 487 different kinds of orgasms?If so, you're reading the wrong guidebook. Despite what many in the media would have you believe, there's no such thing as a rainbow...
Continue Learning about G-Spot Stimulation