Molds such as Stachybotrys chartarum, Fusarium, and Trichoderma can produce very toxic compounds, which, when inhaled or ingested, may result in a poisoning known as mycotoxicosis, which is marked by respiratory, neurological, flu-like, gastrointestinal, and skin problems. These molds are rather uncommon and not every species produces toxins. Therefore, finding these molds does not mean that they actually are producing a toxin or causing mycotoxicosis. Deadly disease due to inhalation of mold toxins is probably rare.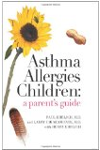 More About this Book
Asthma Allergies Children: A Parent's Guide
Asthma and allergies are at epidemic proportions. It doesn't have to be that way. Two experienced pediatric allergists tell everything a conscientious parent needs to know about these conditions,...
Continue Learning about Fungal Infections