Here are some tips on how you can use letters and words to help you remember items you tend to forget:
Use the first letter of each item to create a funny phrase. To remember items you tend to forget in the morning rush (e.g., wallet, sunglasses, outgoing mail, lunch, hat), create the phrase "What smart, outrageous man laughs heartily." As you leave the house, silently repeat this phrase to make sure you have everything.
Create a rhyme. If you frequently forget which way to turn a light bulb, say "righty-tighty, lefty-loosey." For treating shock, "If the face is red, raise the head; if the face is pale, raise the tail."
Think of your A, B, Cs. When something slips your mind, try to recall the first letter of what you want to remember. Once you get the first letter, think of everything you can that starts with that letter and eventually you'll find the right word. If you don't remember within a half-dozen tries, move on. If it's something important, you'll probably remember it spontaneously later.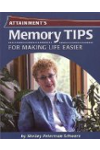 More About this Book
Memory Tips Making Life Easier
Written by memory and aging expert Shelley Peterman Schwarz, Memory Tips for Making Life Easier delivers just what its title promises. Written for health care professionals, family caregivers, and...
Continue Learning about Memory