Complex motor integration activities such as juggling have been shown to increase brain volume and improve everyday memory performance. Researchers in Germany found that juggling increased volume in their subjects' brain white matter. Another group, looking at the impact of computer-based dance games on everyday intellectual performance, found that folks with the smoothest moves scored higher on tests of verbal memory. Such activities boost brain health by getting us to move and forcing us to focus and think about what we are doing. And -- best of all! -- they rate very high on the -- "fun" factor.

Chances are you may have tried juggling at one time in your life, only to give it up as too difficult. Give juggling another shot. Start with one or two balls or scarves (scarves may be a bit easier at first), then slowly work your way up to three.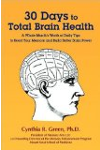 More About this Book
30 Days to Total Brain Health®
Get ready to make the move to better brain health! In this remarkably effective, scientifically-grounded plan, Dr. Cynthia Green, a clinical psychologist and one of the country's most notable experts...
Continue Learning about Memory