Research suggests that doodling may help us attend, maintain focus, and remember more effectively. A study published in Applied Cognitive Psychology found that subjects assigned a doodling task not only did better when quizzed on what they were monitoring in a phone call, but also did 29% better than their non-doodling counterparts on a surprise memory test.

Why would something that improves attention matter to our memory? Attention is critical to acquisition, which is the first step of learning. Usually when we think we have forgotten something such as a name, in truth we simply weren't paying attention when we first learned it. As I often joke to my audiences, this is a "getting" not a "forgetting" problem. An activity like doodling, which improves attention, makes it more likely that you will acquire things that you want to recall.

So go ahead and doodle -- no need to feel guilty about it! If anyone asks, just tell them your doodle is helping your noodle.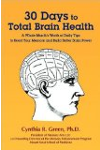 More About this Book
30 Days to Total Brain Health®
Get ready to make the move to better brain health! In this remarkably effective, scientifically-grounded plan, Dr. Cynthia Green, a clinical psychologist and one of the country's most notable experts...
Continue Learning about Memory