Socializing is an important factor in our overall physical and mental health, but it's also key to improving our memory and brain health. In this video, neurologist Gayatri Devi, MD, explains why being social is so beneficial for improving memory.
There is a simple way to hone your mind. Try calling a friend. Staying in touch with friends and loved ones could slow the pace at which your memory dwindles with age.

In a study of 16,638 older adults, people who were married, active in volunteer groups, and in regular contact with friends, family and neighbors had slower declines in memory than their less social counterparts. In fact, declines in the most socially active types were about half of those in the least social group. (Social interaction can bolster this, too.)

How do social ties bolster a waning memory? Researchers aren't exactly sure, but it's possible the greater sense of meaning and emotional acceptance that social connections foster may support healthy brain chemistry.
Studies have shown that folks who are more socially engaged have an associated reduced risk for memory impairment. In one study, researchers at the Harvard School of Public Health found that participants who reported lower levels of social interaction were significantly more likely to show memory problems after six years than their more social peers. Maintaining our emotional ties can also reduce our risk for emotional distress, depression and stress, all of which have been linked to an increase in daily memory problems and dementia risk.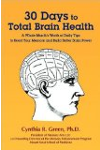 More About this Book
30 Days to Total Brain Health®
Get ready to make the move to better brain health! In this remarkably effective, scientifically-grounded plan, Dr. Cynthia Green, a clinical psychologist and one of the country's most notable experts...
Continue Learning about Memory